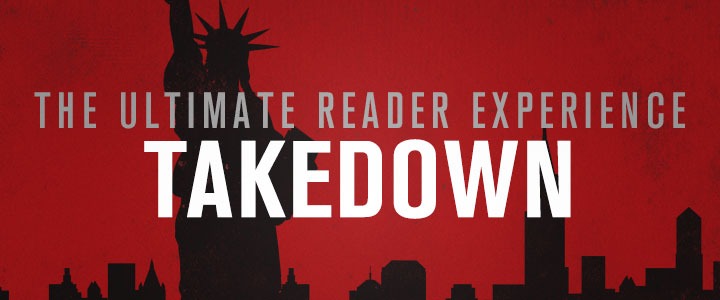 "Good clothes open all doors." – Thomas Fuller
GEAR

Brad Thor Logo Apparel
By popular demand, Brad Thor logo products are now available at our new online store. The initial suite of Made-In-America products includes:
Men's and Women's Polo Shirts
Logo T-Shirts
Ball Caps
Tervis Tumblers
"Chowder breathes reassurance. It steams consolation." –Clementine Paddleford
FOOD AND DRINK

New York Red Clam Chowder
In honor of Takedown's New York City setting, enjoy!
4 slices of bacon, cut crosswise in ½ inch pieces—cook in pan over medium-low until browned and crisp (8-10 minutes)—keep 1 T of the bacon fat to cook vegetables
1 large onion finely chopped
2 medium carrots, halved lengthwise and chopped
1 can (28 oz) plum tomatoes in juice
2 bottles (8 oz each) clam juice (can be 1 bottle clam juice + 1 cup white wine)
2 medium baking potatoes (Yukon Gold) peeled and cut into 2 inch chunks
1 t dried thyme
2 cups canned clams with their juices
2T parsley-chopped
Salt/pepper to taste
Heat the leftover bacon fat to medium, then add onion and carrots.  Cook, stirring occasionally until softened, about 10 minutes.  Add tomatoes with their juice, clam juice, and bring to a gentle boil (break up tomatoes with potato masher into bite-size pieces).  Add potatoes and thyme, reduce heat to simmer, cook until potatoes fork-tender, but not falling apart (approximately 15-20 minutes).  Add in the clams and cook approximately 10 minutes.  Add parsley and serve.  A great crusty bread goes very well with this.
Beverage Pairings

Arnold Palmer
The basic Arnold Palmer drink is ½ glass of lemonade and ½ glass of tea, served over ice cubes.  If you would like to make your own lemonade:
Homemade Lemonade
10 lemons-fresh squeezed
simple syrup (1 cup sugar,  placed into 2 cups boiling water, stir until the sugar dissolves—let cool completely)
Combine lemon juice with simple syrup to taste
For a "spiked" variation, add 1 oz of limoncello, vodka, or bourbon per glass.
"I absolutely love Scotland. I'm always happy there." — Jennifer Saunders
Destinations

In honor of The Troll
Scotland: Highlands and Highlights – A Tour of the Highlands
The area north and west of the Highlands Boundary Fault is known for its majestic beauty, fascinating history and culture.  The Highlands are what everyone imagines when they think of Scotland.  From wilderness to ancient castles, here are just a few of the stops you won't want to miss on a tour of this beautiful countryside:
Cultural Highlights in Edinburgh 

The attractions and festivals in Scotland's capital make it the second most popular tourist destination in the United Kingdom.  You won't want to miss:
"The best way to find yourself is to lose yourself in the service of others." — Mahatma Gandhi
CONVERSTATION STARTERS
Service
TAKEDOWN pays tribute to a renowned warrior, who made the ultimate sacrifice in service to his nation.  The novel explores the question, "does service ever end?"  Scot Harvath finds a beautifully carved plaque with the motto of Anglican missionaries at his new home.  It reads: TRANSIENS ADIUVA NOS – I go overseas to give help.  The phrase applies to various types of service – military, humanitarian, public service, etc.
What is the nature of your service? How has the type of service you engage in changed over your lifetime – from childhood to adulthood?
Why do you engage in the type of service you do?
Whom do you serve and who serves you?  Who are your role models in this regard?
Finally, how would you answer the central question considered in TAKEDOWN: "does service ever end?"
Extras
Click here to see the Book Club Questions for Takedown.