Brad Thor
BRAD HAS BEEN CALLED "THE MASTER OF THRILLERS," AND "AMERICA'S FAVORITE AUTHOR." HIS BESTSELLING NOVELS HAVE BEEN PUBLISHED IN OVER 30 COUNTRIES.
#1 NEW YORK TIMES BESTSELLING AUTHOR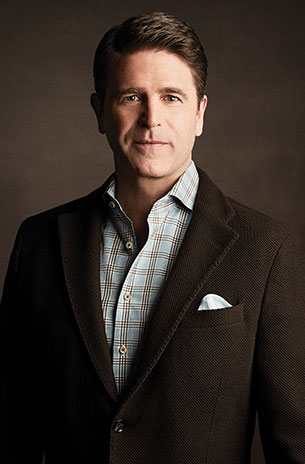 BRAD THOR is the #1 New York Times bestselling author of twenty-three thrillers, including DEAD FALL, BLACK ICE (ThrillerFix Best Thriller of the Year), NEAR DARK (one of Suspense Magazine's Best Books of the Year), BACKLASH (nominated for the Barry Award for Best Thriller of the Year), SPYMASTER ("One of the all-time best thriller novels" —The Washington Times), THE LAST PATRIOT (nominated Best Thriller of the Year by the International Thriller Writers Association), and BLOWBACK (one of the "Top 100 Killer Thrillers of All Time" —NPR).
MEDIA CONTRIBUTOR
Brad has appeared on ABC, CBS, NBC, PBS, FOX News Channel, FOX Business Channel, CNN, CNN Headline News, and MSNBC (among others) to discuss terrorism, as well as how closely his novels of international intrigue parallel the real threats facing the world today.
BACKGROUND
Brad has served as a member of the Department of Homeland Security's Analytic Red Cell Unit. He has also lectured to law enforcement organizations on over-the-horizon/future threats, and has been a keynote speaker for the National Tactical Officers Association annual conference.

In 2008, Brad shadowed a Black Ops team in Afghanistan to research his thriller, The Apostle.
Brad graduated cum laude from the University of Southern California where he studied creative writing, film, and television production. Prior to becoming a novelist, Brad was the award-winning creator, producer, writer and host of the critically acclaimed national public television series, Traveling Lite.