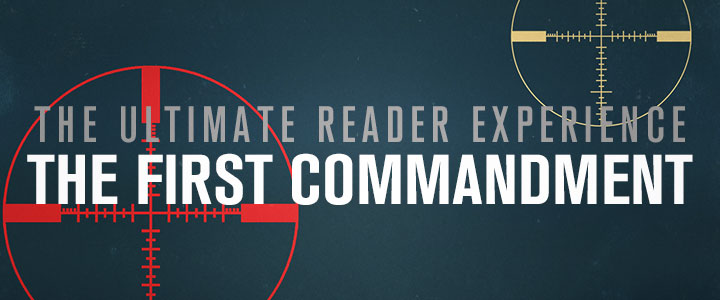 GEAR
Sport Bikes
"You do not need a therapist if you own a motorcycle… any kind of motorcycle!" – Dan Aykroyd

The Yamaha YZF-R6 is straight out of THE FIRST COMMANDMENT. Philippe Roussard steals this model in Wyoming and uses it to escape the scene of his attack on the U.S. Ski Team facility in Park City, Utah. This bike can handle the most challenging terrain – from the Utah mountains to the Daytona 200 track.
Ducati's latest 848 is a more of a street fighter built for "control, precision, and pure fun" in the urban jungle.
Finally, Erik Buell Racing's 1190RS is the company's flagship bike, and proudly designed and manufactured in the USA.
"There is no love sincerer than the love of food." – George Bernard Shaw
FOOD & DRINK
Crab Wontons
As featured in THE FIRST COMMANDMENT (Recipe makes 12 wontons)

Ingredients:
1 can (6 oz) crab meat-drained
4 ounces cream cheese-room temperature
¼ C green onion-thinly sliced on the bias
¼ C mayonnaise
1 t soy sauce
Package of square wonton wrappers
Directions:
Preheat oven to 350 degrees F. Spray muffin tins with cooking spray.
In a medium bowl, gently combine crabmeat, cream cheese, green onion, mayonnaise, and soy sauce.
Place a wonton wrapper into each muffin cup, allowing the corners to extend up the sides of the cup. Fill wontons evenly with crabmeat mixture. Pinch sides toward middle to create an elegant look.
Bake for 15-20 minutes, or until edges are golden, and filling is heated through. Allow to cool slightly in the muffin tin. Serve warm, garnish with extra green onion slivers.
Vodka and Tonic
"Oh, I'd love to roll to Rio. Some day before I'm old." – Rudyard Kipling

In honor of THE FIRST COMMANDMENT character, Jean Stevens
Fill a highball glass with ice cubes, then add 2 ounces vodka-the better quality vodka, the better the drink will taste. Fill the rest of the way with tonic water. Then add splash of fresh lime juice, and a lime wedge for garnish. So easy—Enjoy!
DESTINATION
"Let us never negotiate out of fear. But let us never fear to negotiate." – John F. Kennedy

Rio de Janeiro: A Festival for the Senses
The second largest city in Brazil, Rio de Janeiro is synonymous with Carnival and known for its party atmosphere, stunning vistas, exotic flavors, and historic landmarks. In the summer of 2016, Rio will be the first South American city to host an Olympics.
These are some of my top picks for a fun-in-the-sun tour of Rio:
Mountains:

A cog-train ride up Corcovado Mountain will deliver you to the famous Art Deco style statue of Christ the Redeemer that overlooks the city and ocean. Rio's other famous peak, Sugarloaf Mountain, can be reached by cable car. The ride is exciting, but doesn't compare to the 360-degree views of some of the world's most renowned beaches.

Beaches:

Ipanema and Copacabana – Both beach areas are beautiful. They have inspired songs and countless summer memories. Upscale Ipanema offers more tranquil spots, while Copacabana offers more diversity of visitors and activities.

Gardens:

Jardim Botanico – Find respite from the city among the 340 acres of exotic gardens, including the famous royal palms. A short distance away, the Parque Lage is a public park with walking trails, gardens and an historic palazzo that was the former residence of one of Brazil's most renowned entrepreneurs.

Cultural Landmarks:

Book lovers, as well as history and architecture buffs alike marvel at the Biblioteca Nacional, built in the early 20th century in the neoclassical style. The national library is Latin America's largest, with an estimated 12 million books. The Teatro Municpal resembles and was styled after one of my favorite buildings in the world, the Paris Opera. It is worth a daytime visit and offers a luxurious alternative to Rio's nightclub scene. Just for fun, the Carmen Miranda Museum pays tribute to the colorful star of song and film, which remains a local legend.
SIDETRIP: Angra dos Reis
In THE FIRST COMMANDMENT, The Troll tucks away in the sublime town of Angra dos Reis, or "Bay of Kings," in the southern part of Rio de Janeiro state. This area is home to 365 islands – one for every day of the year, as locals will boast – and 2,000 beaches. The charming colonial city center is home to historic architecture and monuments, but the region is best known for the abundance of water sports, particularly diving and deep-sea fishing.
CONVERSATION STARTERS
Negotiation
In THE FIRST COMMANDMENT, we learn the first commandment in the war on terror: thou shalt never negotiate with terrorists. Negotiations are a part of life – whether we are negotiating salaries, trade agreements, or dinner plans – we are in constant discussions aimed at reaching consensus.
What are the characteristics of a good negotiator? Who are some good negotiators in public life? In your personal life?
Would Scot Harvath make a good negotiator? Why or why not?
Are there any positions you hold that are non-negotiable? What are they? Why are they not up for discussion?
What are your best negotiation tips or tricks?
Do you agree that we should never negotiate with terrorists? Make your case.
EXTRAS
Take a look at Brad's writing process in The First Commandment.
Click here to see the Book Club Questions for The First Commandment.