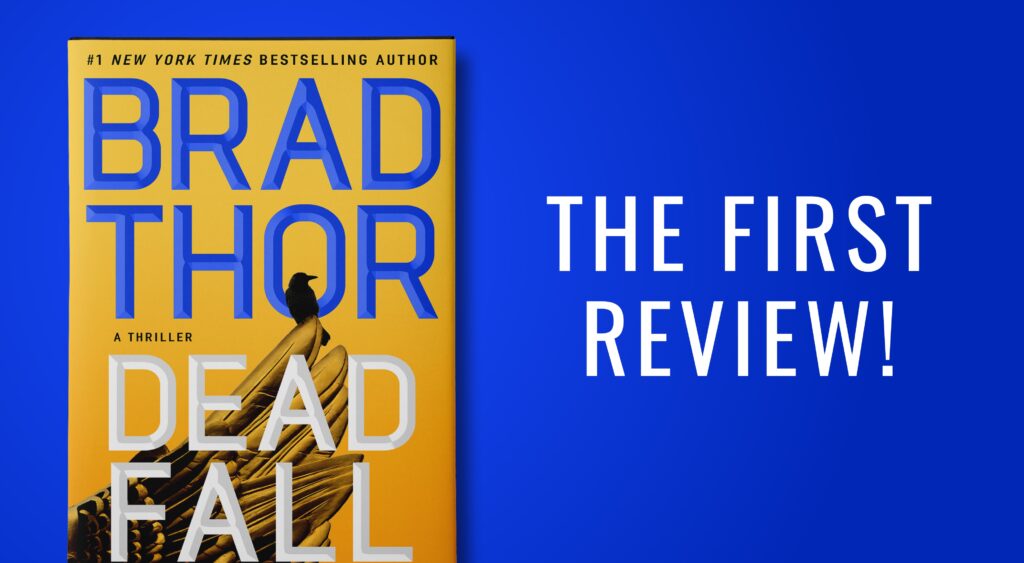 [From: The Real Book Spy]
Scot Harvath returns for another action-packed, globe-trotting, headline-beating adventure in the latest offering from #1 New York Times bestselling author Brad Thor.
Following the events of Rising Tiger, former Navy SEAL turned counterterrorism operative Scot Harvath uses old contacts (the same people his mentor and former boss, Reed Carlton, used in the days of the Iron Curtain) to gain entry in and out of Belarus in order to take out a high-value target. The mission is a success, with news reports detailing the death of Faisal Al-Masri—whose status as one of the highest-ranking members of the Islamic Revolutionary Guard Corps, and the head of Iran's drone program, earned him a "VIP position on the CIA's kill list"—already flooding airways before Harvath and his men can slip back across the border.
With the op behind him, Harvath plans to spend a few days in Poland with Sølvi Kolstad. Their relationship still going strong, Sølvi, the former Norwegian spy, only recently accepted a promotion that has drastically reduced her time in the field. But things don't go according to plan.
While waiting for Sølvi's plane to land in Warsaw, Harvath gets a text from Nicholas (better known to longtime readers of Thor's series as "the Troll"), who indicates that the two need to meet ASAP. Harvath is surprised to learn that his friend and colleague has traveled from The Carlton Group's Virginia-based HQ to meet him on-site, and is soon read in on some new developments that have gone down in Ukraine. Already, more than two dozen American citizens, most of them fighting alongside Ukrainian forces, have died since the Russian invasion started. But several of them were tortured and then executed. The president, though unsatisfied by merely supporting Ukraine with money and equipment, can't send American troops to intervene. But when intel comes back detailing the horrific and barbaric killings of innocent children living at an eastern Ukraine orphanage done at the hands of the Wagner Group, the call is made to drop Harvath into the chaos so he can settle the score and unleash hell on the savage mercenaries.
Unable to bring his own team of battle-tested operators, Harvath will have limited support and just four English-speaking locals to watch his six, but then again, he's spent decades hunting bad guys and sending them on a one-way trip off this earth. So, if anyone is qualified, it's Harvath—and with the images of the massacred orphanage providing extra motivation, he launches head-first into Ukraine to kill every man who had a hand in the heinous acts . . . but first, he'll have to find them. And with the country on fire and deadly obstacles at every turn, it's quickly apparent that this is Scot Harvath's most dangerous mission yet.
Brad Thor has made a name for himself by predicting the headlines and crafting his thrillers around them in advance, but he's never been quite this on the money. In what can only be described as eerie, much of Dead Fall is quite literally playing out right now in real-time. If you watch the news and then read this review and feel like you just heard about mercenaries in Ukraine like the Wagner Group or that your favorite news outlet was just talking about Belarus, you're right. Thor has been way ahead of Fox News and CNN, and his diehard fans have been saying as much for years. The only difference is that, normally, the author's plots come to life further down the road, not right at publication. The timeliness of it all is unprecedented and certainly adds to the reading experience, but beyond learning about the conflict in Ukraine and feeling entertained, Thor will leave you walking away wishing more than ever that Scot Harvath was a real person and someone the world could call on right now. In some ways, this book feels a bit like Thor's fifth novel, Takedown (2006), which, following a July 4th attack on US soil, saw Harvath stranded in Manhatten, fighting groups of terrorists with little to no outside support. Given the similarities, it's worth reminding that nobody delivers a star-spangled ass-kicking better than Scot Harvath, and this year, Thor brings the fireworks like never before.
If the saying "go big or go home" is any indication, Brad Thor must not like his house all that much because he takes another big swing here, continuing his dominant run of can't-miss novels by delivering his most timely and intense Scot Harvath adventure to date. Dead Fall is the hottest thriller hitting bookstores this summer . . . and an easy contender for best book of 2023.