GEAR:
"Oh, I travel… a sort of licensed trouble shooter." – James Bond, Thunderball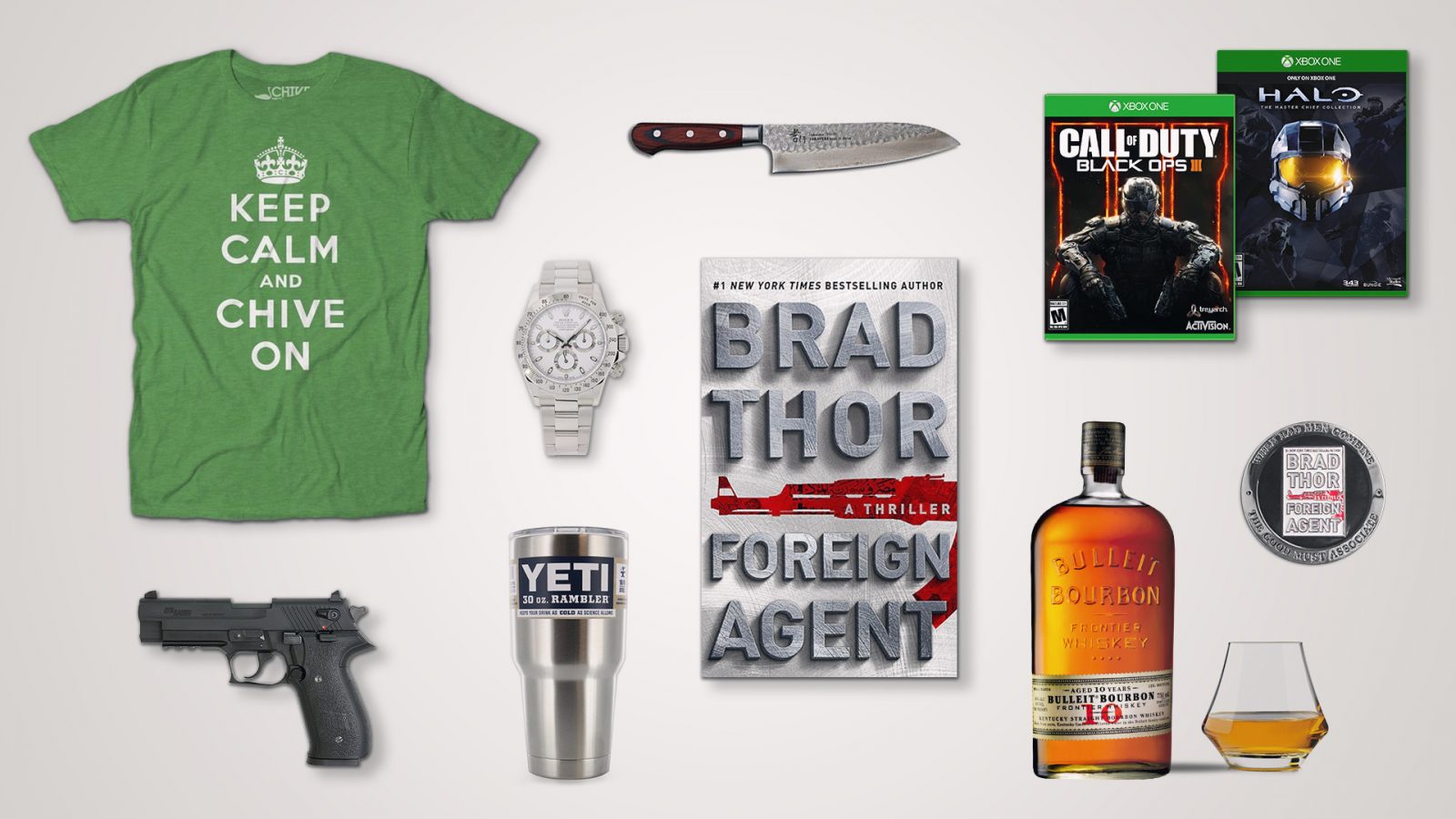 FOREIGN AGENT
Buy It Here
Keep Calm and Chive On Tee Shirt
$28 – Buy It Here
Rolex Daytona Watch
$12,590 – Buy It Here
Limited Edition FOREIGN AGENT Challenge Coin
$25 – Buy It Here
Yeti Tumbler
$70 – Buy It Here
Bulleit Bourbon
$30 – Buy It Here
Sakai Takayuki Japanese Chef's Knife
$962.50 – Buy It Here
.22 SIG SAUER "Mosquito" Pistol
$350 – Buy It Here
HALO
$28 – Buy It Here
Call of Duty: Black Ops
$35 – Buy It Here
DESTINATION:
MALTA: Islands of History and Adventure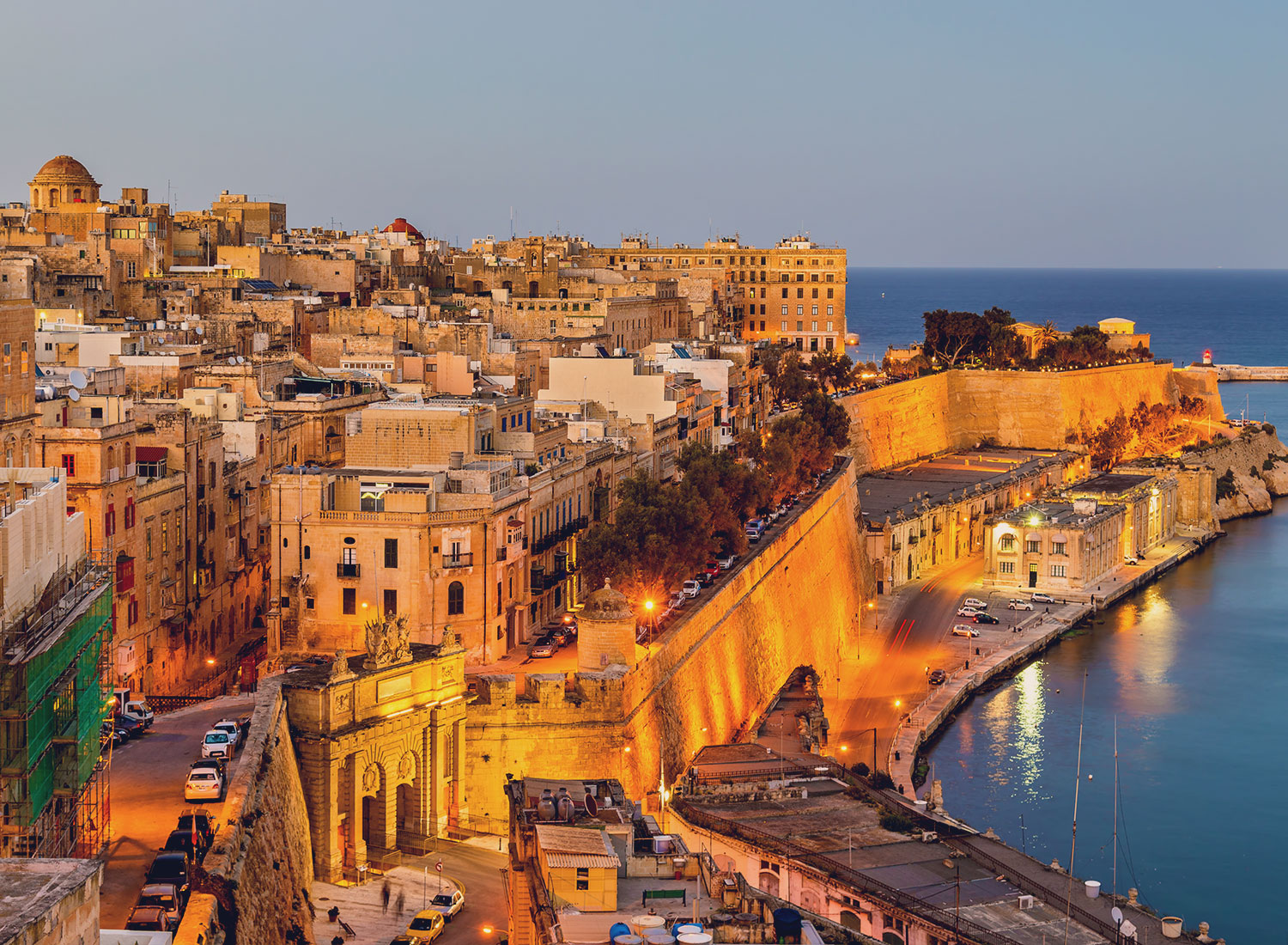 Some of the most dramatic scenes in FOREIGN AGENT take place in the Mediterranean nation of Malta. The exotic storybook setting has been the backdrop for real-life battles among ancient empires all the way through World War II. Situated between Italy and North Africa, the country's heritage blends European, Middle Eastern, and African cultures and is formed by a string of islands including Gozo, Comino, and Malta.
A wonderful way to begin your tour of Malta's capital of Valetta, the National Museum of Archaeology puts in context the many archaeological sites around the island. With artifacts dating back to 5000 BC through 400 BC, the museum offers a perfect introduction to Malta's long and rich history. No visit to the island is complete without seeing Malta's seven megalithic temples that qualify as UNESCO Heritage Sites or the Hypogeum, a maze of underground chambers that served as ancient burial sites.
The adjacent churches of St. Paul and St. Publius honor two men who brought and led Christianity in Malta and whose stories intersected here. It was Publius who received the Apostle Paul when his ship wrecked famously on the island. Paul was responsible for bringing Christianity to the island and for performing several miracles here after his shipwreck. Publius was the nation's first bishop.
Built by the Knights of St. John between 1573-1578, the St. John Co-Cathedral remains one of the most exquisite examples of Baroque architecture in the world. Inside, you will not want to miss viewing Caravaggio's famed Beheading of St. John in the oratory or the remarkably preserved Flemish tapestries in the museum.
The center of government, where Maltese House of Representatives and the President work, is also home to some of the most spectacular art, architecture, and armory in all of Europe. The Grand Master's Palace has been Malta's administrative center for more than 300 years, and along its hallways and state apartments, the history of those centuries comes to life.
A fun day trip is just a ferry ride away to the island of Gozo. If you find yourself on this smaller, rural island during the "festa" season of summer, you are likely to encounter a village celebration of a patron saint, an arts festival, or the annual national commemoration of the Siege of Malta.
Rounding out the jewels in this island chain is Comino, the smallest of the three and located between Malta and Gozo. The best way to enjoy this car-free, and virtually uninhabited island is certainly by sea – diving, wind-surfing, or wading in the crystal clear waters of the Blue Lagoon.
Last, but certainly not least, the grand finale to any Maltese adventure should be a boat trip through the sea caverns and phosphorescent waters of the Blue Grotto.
FOOD:
"My diet is the Mediterranean diet, which is good food." -Penelope Cruz
MEDITERRANEAN FEAST
In FOREIGN AGENT, Scot Harvath and his partners on the ground in Syria, the Hadids, refuel with some authentic Middle Eastern delicacies. Here are some classic recipes for you to try at home:
Lamb Meatballs in Red Sauce
Ingredients:
2 pounds ground lamb (pork or beef work too, if you are not a fan of lamb)
1 yellow onion-finely chopped (about ¾ C)
1 ½ t ground cumin
1 ½ paprika (a hot smoky paprika works well here)
5 T breadcrumbs
2 eggs-beaten
3 T fresh parsley-chopped
salt, and pepper to taste
1-2 T olive oil
1 can (28 oz) diced tomatoes
Directions:
In a large bowl combine meat, ¼ C onion, cumin, ½ t paprika, breadcrumbs, eggs and parsley. Season with salt and pepper. Mix to combine, and using your hands roll in 1-1/2 in wide balls.
In a non-stick skillet, heat 1 T olive oil over medium-high. In batches, brown meatballs on all sides, approximately 8 minutes per batch. Place them in the bottom of your slow cooker. After meatballs are done, add remaining onion to the skillet and cook, stirring, 3-4 minutes. Add cooked onion to slow cooker, and top with 1 t paprika, and the tomatoes. Cook on low about 5 hours for tender meatballs. Serve with rustic bread, or over pasta or rice.
Pita Bread
Ingredients: 
4 ½ C all-purpose flour
2 packages or 4 ½ t active dry yeast
1 T honey
2 ¼ C warm water (110 degrees)
1 ½ C whole wheat flour
1 T kosher salt
1/3 C extra virgin olive oil
cornmeal for sprinkling
Directions:
In a large bowl, whisk 1 C all-purpose flour, yeast, hone, and 1 C warm water until mixture is smooth. Cover with plastic wrap, and let rise in a warm spot until doubled in size-about 30 minutes. Stir in remaining 3 ½ C all-purpose flour, salt, oil, and remaining 1 ¼ C warm water.
Transfer dough to a lightly floured work surface, knead dough (dust with all-purpose flour as needed to prevent sticking) until smooth and elastic-about 10 minutes. Transfer to a large bowl, add a little extra virgin olive oil just to coat the dough, cover and let rise until doubled in size-about 45 minutes.
Punch down dough, and form into a ball on a lightly floured surface.
Cut into quarters, then divide each piece into 4 smaller pieces.
Roll each piece into a ball, and pinch to tighten ball. Turn pinched side down and flatten with your palm. Take a lightly floured rolling pin and flatten each ball into a 6 inch round.
Transfer rounds to rimmed baking sheet sprinkled with cornmeal, drape with kitchen towels, let stand 30 minutes.
Preheat oven to 500 degrees, with a rimmed baking sheet in the oven, upside down, on a rack in the lowest position. Place 4 rounds on baking sheet, and bake until puffed, about 2 minutes. Flip and bake until golden brown in spots and just cooked through- about 1 minute. Transfer to a basket lined with a kitchen towel, and cover to steam and keep warm.Bake remaining pitas in the same fashion.
Bake remaining pitas in the same fashion.
DRINK:
"Bourbon does for me what the piece of cake did for Proust." — Walker Percy
BOURBON TASTING
Brad featured two of his favorite bourbons in FOREIGN AGENT, Bulleit and Maker's Mark. Bourbon is technically produced only in the United States, specifically Kentucky, where water flows through limestone to give it a distinctive flavor. In fact, in 1964, the US Congress set federal standards for bourbon.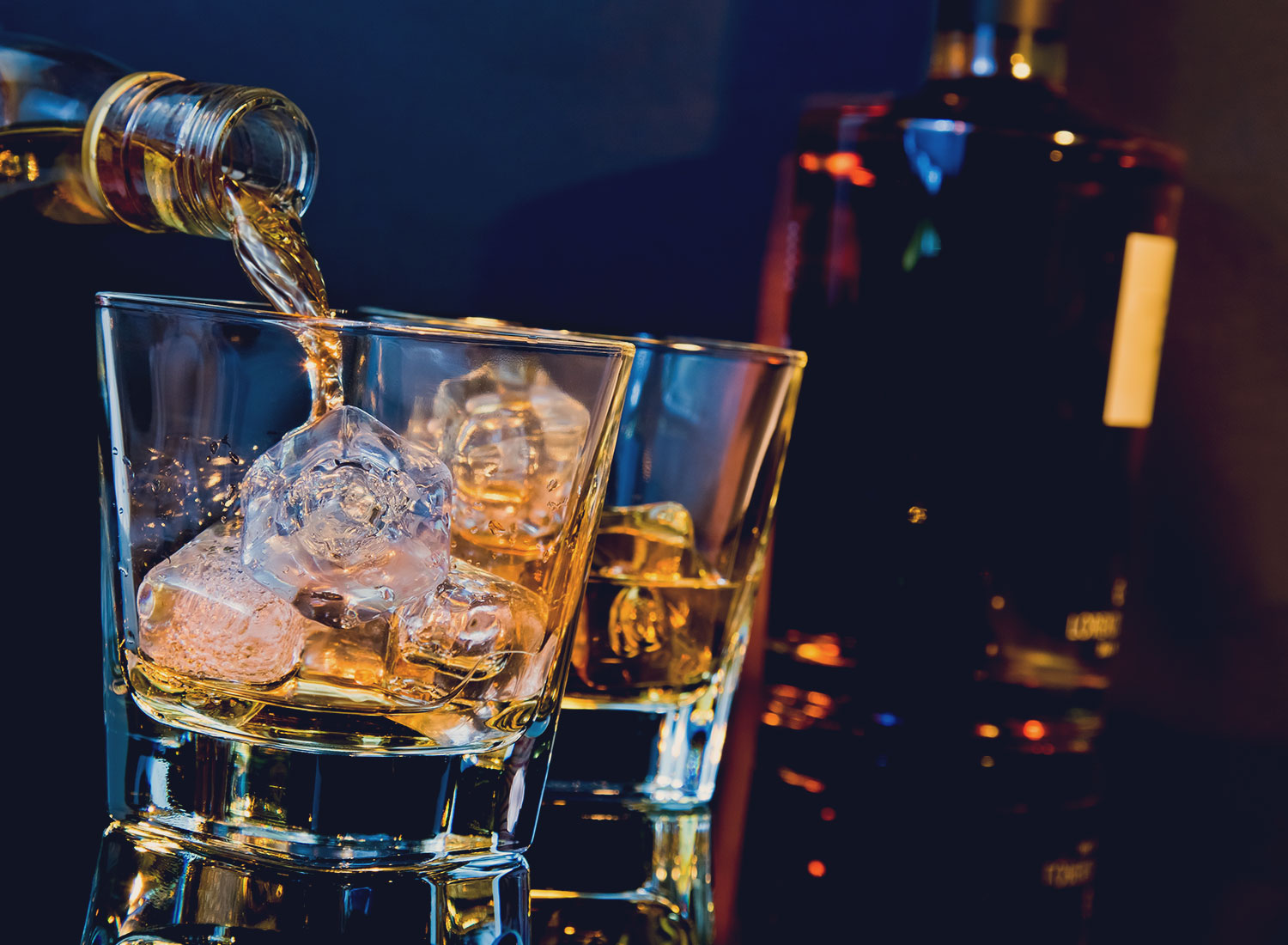 Here are some tips for serving a flight of bourbon and/or hosting a tasting at home:
Select 1-3 bourbons in/within each category, organizing by production (small batch, single-barrel, craft) or tasting category (low proof, wheated, rye) or both. Recommendations by category
Recommendations by categorySmall batch: Woodford Reserve or Knob Creek
Small batch: Woodford Reserve or Knob CreekSingle barrel: Blanton's
Single barrel: Blanton'sCraft: Willet Pot Still Reserve
Craft: Willet Pot Still Reserve Low Proof: Evan Williams Single Barrel
Low Proof: Evan Williams Single BarrelWheated: Maker's Mark
Wheated: Maker's Mark
High Corn: Old Charter
High Rye: Bulleit
Start with a "neat," pour (not mixed or chilled)
Serve in snifters or rocks glasses.
Offer garnishes including ice, lime, lemon, orange slices
Make notes and discuss how the bourbon looks, smells, tastes and about "the finish," or the very last taste or texture sensation in your mouth
Consider mixing a couple of the most simple and classic bourbon cocktails, a Mint Julep or a Manhattan.
CONVERSATION STARTERS:
"He who has had no experience of evil cannot know the worth of what is good." -Maltese Proverb
Beauty and Evil
The relationship between beauty and evil has been discussed in literature for centuries and even in The Bible.
In FOREIGN AGENT, Brad explores this relationship of high contrasts as he describes the charming and picturesque mountain town that played host to Adolph Hitler's glamourous house guests.
Brad asserts that evil is attracted to beauty because evil is incapable of creation, only destruction. Beauty, the ultimate creation, is desired by evil more than anything – except power.
Do you agree that evil is attracted to beauty? If so, what are some examples of evil's desire for beauty? If not, what do you think evil is pulled toward besides power?
What about power? What are the major struggles around the world today that center around evil's desire for power?
He goes on to cite one haunting exception to his thesis: jihadism, explaining:
"Islamic fundamentalists rejected beauty. Women were to be kept covered. Depictions of the human form were forbidden. Ornamentation and ostentation also forbidden. Theirs was a monastic fanaticism."
Do you think jihadists are evil? Why or why not?
How would you assess Brad's position that they are, "not perverting their religion," but rather purifying it? How are they purifying it?
BOOK CLUB GUIDE
Brad opens FOREIGN AGENT with a quote from Edmund Burke" "When bad men combine, the good must associate, else they will fall, one by one, an unpitied sacrifice in a contemptible struggle." Again in chapter 5.
Why do you think Brad chose to open FOREIGN AGENT this way?
How is Burke's statement relevant today?
Lara considers several factors when making a decision about moving versus taking a promotion with the Boston Police Department, including her aging parents, her son's ability to grow up near family, and her friendships.
When have you made similar considerations? What else factors in decisions to move, change jobs, take promotions, and other life events
Do you agree with her final decision? Why or why not?
In FOREIGN AGENT, the President says the United States needs, "wolf hunters." Scot Harvath challenges him and says, the U.S. needs, "sheep dogs."
What is the difference between "wolf hunters" and "sheep dogs" in this context?
Who is right and why?
Throughout FOREIGN AGENT, Scot Harvath grapples with balancing his career and personal relationship with Lara Cordero. At one point, he recalls a conversation with an associate who told him, "if you've come this far in life without finding the right person, the problem isn't them, it's you."
In Scot Harvath's case, do you agree 1) that not finding the right person to this point in his life was a "problem," and 2) that the issue was him?
What are some of the questions Harvath contemplates about his career? About his relationship with Lara? Did he miss anything? Was there any time you felt he was "over-thinking" the situation?
Harvath defines courage as not, "the absence of fear," but rather, as "what you [do] in spite of it."
How do you define courage?
When have you displayed courage? What about others in the world today? Members of your community? World leaders?
How was Scot Harvath courageous in FOREIGN AGENT?