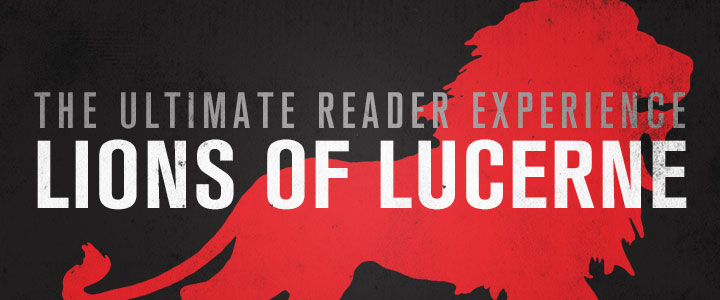 "With my sunglasses on, I'm Jack Nicholson. Without them, I'm fat and 60." – Jack Nicholson
Gear
STRAIGHT OFF MY SHELF: SKI SEASON SUNGLASSES
Whether you're skiing like Scot Harvath or admiring the view from the bottom of the slopes, sunglasses are not optional wintertime gear. In LIONS OF LUCERNE, Scot sports a pair of polarized wraparound shades from SPY.
Here are three of my go-to sunglasses, straight off my shelf:
"A small garden, figs, a little cheese, and, along with this, three or four good friends–such was luxury to Epicurus." – Friedrich Nietzsche
Food & Drink

CLASSIC FONDUE (Serves approximately 4 people)
1 garlic clove, cut in half
1 cup dry white wine-Chardonnay or Sauvignon Blanc
1 teaspoon lemon juice
2 cups Gruyere cheese-shredded
2 cups Emmentaler cheese-shredded
2 teaspoons cornstarch
2 tablespoons Kirsch
Dash white pepper
Pinch nutmeg-grated
Rub inside of fondue pot with cut garlic to give slight flavor. Pour in wine and lemon juice, cook over medium until bubbly. Turn heat to low and gradually stir in cheeses with a wooden spoon. In a small bowl blend cornstarch with Kirsch. Stir into melted cheese and continue to cook, stirring 2-3 minutes until mixture is thickened. Do not allow fondue to boil. Season with white pepper and nutmeg.
To serve, use fondue forks to dip cubes of French bread, sliced of apple, pickles, salami into fondue.
Legend has it that if you lose your bread in the fondue you must kiss someone at the table!
 "Here's to alcohol, the rose colored glasses of life." – F. Scott Fitzgerald
BEVERAGE PAIRINGS

Any of these beverage suggestions would make a perfect pairing for Classic Fondue:
White wine: you can use the same wine as in the fondue:
Chardonnay, Sauvignon Blanc
Red wine: Pinot Noir pairs well with this recipe
Sparkling: Dry varieties work best
Beer: White Belgian Ale (Blue Moon is a great US option)
Spirits: Kirsch is a German cherry brandy used in the classic fondue.
And, American-made Dekuyper is another great option.
"Switzerland is a place where they don't like to fight, so they get people to do their fighting for them while they ski and eat chocolate." – Larry David
DESTINATION

A LION'S TOUR OF LUCERNE
Chapel Bridge, or Kapellbrücke, is one of several covered footbridges criss-crossing Lucerne and site of an amazing action scene in LIONS OF LUCERNE!
Swiss Museum of Transport: Home to the most expansive and diverse exhibit of transportation and communication in Europe.
Museum of History Lucerne – Originally an arsenal for the storage of weapons in the 16th century, now showcases medieval and Renaissance art.
Church of St. Francis Xavier – This Jesuit church was the first large baroque church built North of the Swiss Alps and today serves as a popular concert hall.
Glacier Garden and Museum: Many people don't know that Lucerne was formed by a glacier; the garden and museum include a labirynth of mirrors, the Alhambra Hall of Mirrors.
Home of Richard Wagner: A museum has been established in the famous composer's former home, where he resided for six years.
Picasso Museum of Lucerne: The collection includes the most revealing photos of the artist's personal life.
Swiss Alphorn Factory: Stocker is a well-known maker of this uniquely Swiss wooden instrument.
Mussegg Wall: Climb the three of the towers, including one which holds the oldest clock in the city – it rings one minute before any other clock in Lucerne!
Lion of Lucerne Monument: The monument that inspired the title of my first thriller and that Mark Twain called, "the saddest and most moving piece of rock in the world."
STRAIGHT OUT OF LIONS OF LUCERNE: Day trip to Mount Pilatus
Experience the site Scot Harvath's pinnacle adventure with a side trip to Mount Pilatus, including a ride on the world's steepest cog wheel railway!
"Conversation about the weather is the last refuge of the unimaginative." – Oscar Wilde
CONVERSATION STARTERS
HELVETIORUM FIDEI AC VIRTUTI
I opened my first thriller, LIONS OF LUCERNE, with the Latin phrase that means, "fortune favors the brave." My protagonist, Scot Harvath, is nothing if not courageous and fiercely loyal. These values are important in our personal and professional relationships, in our leaders and in our neighbors.
What are some of Scot's acts of loyalty and bravery in LIONS?
How do you demonstrate your loyalty to family, friends, your community, or your co-workers?
What have you done recently that required courage?
Is there a leader in your community that has committed a courageous act? What was it? Why was it brave?
How would you assess the state of these values in our society today? Are we more or less loyal? Brave?
Extras
Click here to see the Book Club Questions for The Lions of Lucerne.