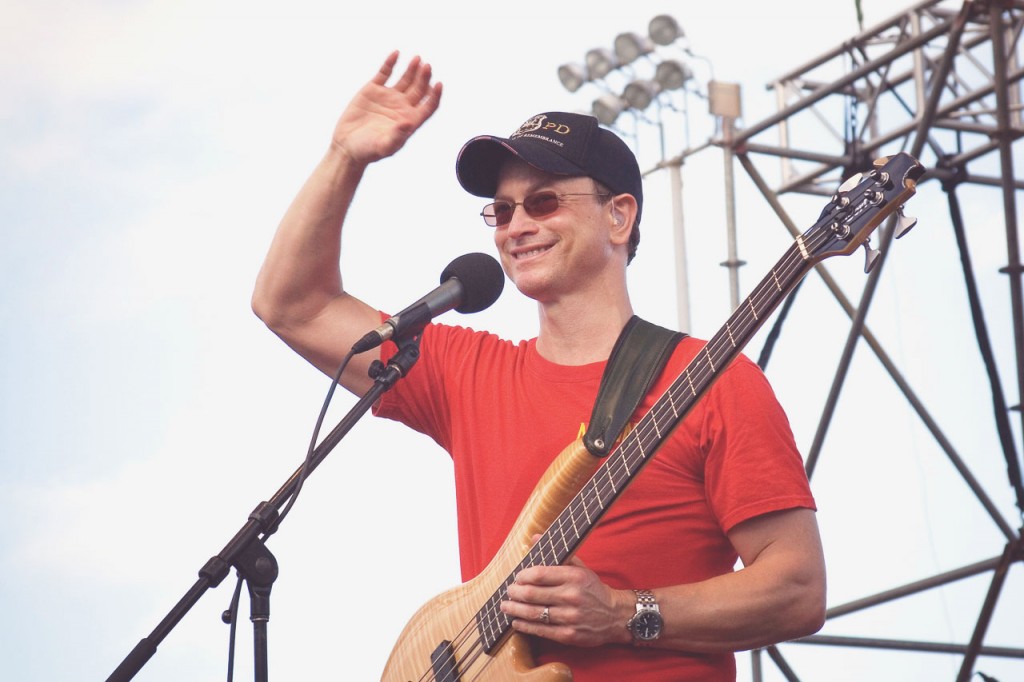 Insider Interview: Gary Sinise, Actor, Director, Musician, Humanitarian, Patriot
FULL BLACK was my first thriller to feature Hollywood (the character with the biggest target on his back in this novel is a major filmmaker), so I thought it would be perfect to interview an acclaimed actor, who is a great patriot and humanitarian.
Gary Sinise is known as the star of blockbuster films, awardwinning television, and even a rock band. Off screen and stage, he works tirelessly to support and honor "our defenders, veterans, first responders, their families, and those in need" through the exceptional Gary Sinise Foundation – of which I am a supporter.
I am proud to call Gary my friend, and delighted he could help us kick off the Ultimate Reader Experience for the New Year.
BRAD: Gary, you and I are both Illinois natives, and one of the many things about you that strikes me is that you have preserved a strong character of respect, patriotism, humility, and courage despite tremendous success in the entertainment business. How do you stay true to your values? Do you think your Midwestern roots shaped who you are?
GARY: I was born on the south side of Chicago. My grandfather worked on the Indiana Belt Line railroad and one of my prized possessions is his old railroad pocket watch that he gave me on my 16th birthday. He served in the Army in France in WW1, my Dad's two brothers served in WW2 (one as a Navigator on a B17 over Europe, the other on a ship in the Pacific), and my Dad also served in the Navy in the early 50s. My Mom was a homemaker, and very dedicated to raising me and my brother and sister, while my father worked long hours as a film editor, the first independent editor in Chicago to start his own editing business back in the early 60s. He was inducted into the Chicago Editors Hall of Fame for that. I even worked for my Dad for a while when I was 19.
I spent many years living and working in the Chicago area as we were building the Steppenwolf Theater Company. The company really was a group effort of kids coming together to do our own thing, making no money for the longest time, but reveling in the fact that we were doing theatre our way and having control over what we put on stage.
I started the company with my pals when I was 18 years old and pretty much worked exclusively on it until I was about 35, when I then started mixing in some film work here and there. It was just a hard-working, no nonsense, get-it-done attitude that kept us together and, I think, helped to shape who and what I am as an artist. By the time I got to working in Hollywood, that simple work ethic and emphasis on the quality of the work above all else was ingrained in me. I still feel very connected to Chicago and those early days, and do not forget the hard work and struggles that brought me to where I am today.
Always keeping that in mind, it makes it much easier to check yourself and remember all the hard-working folks out there who keep this country going, who would love to be in my shoes enjoying a movie career, but who will never get that opportunity. I feel fortunate that I have been able to make a living doing what I love to do. So many people work their whole lives just paying the bills but never really enjoy the work they do. I've been blessed and I feel like the lessons I learned early on living and working in Chicago have stayed with me. No doubt about it.
BRAD: FULL BLACK explores, in part, Hollywood's ability to shape popular culture. What is the greatest change you have seen in Hollywood over your years as an actor? What is one thing that has stayed the same?
GARY: That's an interesting question. I think one thing that hasn't changed is the personal nature of finding a place in the community. Hollywood isn't really a place on a map so much as a vast network of people who know one another and, besides obviously having to have the talent, I think that any career also really depends on having the energy and urgency to put yourself out there, to meet people, to see how they do things and how they can be reached.
One thing that has changed is the perception of film acting versus acting on television. That seems to have gone back and forth and back again. I think there was a time years ago when acting on television became a very popular thing to do, as programming on TV was new and exciting and the medium was on the cutting edge. The old Playhouse 90s for example. It was all new then, so actors who were only used to acting in movies were branching out and exploring the new medium.
Then there was a period heading into the 70s when there was a perception that someone acting on television was doing it because they could not find work in the cinema and the "real acting" was only happening on the movie screens. Now we live in the world of the 500-channel universe and the infinite number of indie productions and boutique studios, yet strangely my universe seemed less competitive with everybody doing more or less the exact same thing – where an actor succeeding on TV can now be seen as an asset to film production and the crossing over from one medium to the other is now done all the time. Look at the number of actors who now work in both mediums simultaneously. So, in my opinion the business has changed enormously, but the personal nature of finding your way hasn't changed. There are a lot of fine actors and artists out there who, for one reason or another, have not met the right person yet who can help them get in the door.
BRAD: One of the amazing things you do through your charitable work is to tell the stories of those who serve in the military and in their communities. It is so important to our country/society to have cultural influencers who revere these real heroes and who have the ability to communicate. What motivates you to use your gifts in this way? How can my fans help you in this mission?
GARY: I'm an actor. I play parts. Good guys and bad guys. Whatever is called for (and I have been lucky to play some great heroes). I have also been lucky enough to know many real life heroes:
Members of the FDNY who were there on September 11, 2001, the first battle in the war on terror and who lost many friends and family members
Men and women serving in our military who went into harm's way in reaction to what happened on 9/11
Doctors and nurses serving on the battlefields and in our military hospitals
Wounded warriors who never quit despite their severe injuries and the caregivers who have given up their time and their own dreams in order to care for those who have sacrificed parts of themselves for our country
Our Gold Star families who have had to endure the devastating loss of a loved one, especially the innocent children who have lost a parent in these wars who grieve each day missing Mom or Dad.
These are heroes to me. People who motivate me and inspire me and if I can use the spotlight of celebrity to shine a light on them for all they have done, it is a way that I can serve, a way that I can give back to those who don't ASK much but who give SO much, allowing all of us to live free in this great nation of ours. Again, I'm only an actor; these folks are the real deal. And having been involved with supporting our men and women going back decades, and as I have supported several military charities over the years, it became clear to me that the next logical step for me was to create my own military and veterans' support foundation. So about 3 years ago I founded the Gary Sinise Foundation with a mission of serving and honoring the needs of our defenders, veterans, first responders, their families and those in need. We create and support many programs designed to entertain, educate, inspire, strengthen and build communities and I would encourage all Brad Thor fans to go to the Gary Sinise Foundation to learn more and to support us in our mission to help others.
BRAD: You lead such a full life with your family, career, and charitable endeavors. What's next for you?
GARY: Having just wrapped up a very busy 2013 with many concerts, fund-raisers, Gary Sinise foundation events and other support work for the men and women who serve our country, I am
looking forward to getting back to acting sometime in 2014. Nine years on CSI NY has afforded me many great opportunities and allowed me to devote a significant amount of time and resources to my passionate commitment to those who serve our great country. After a dozen years of war in Afghanistan and Iraq there will be needs in the military community for many years to come, and nongovernment foundations such as the Gary Sinise Foundation will be critical in meeting those needs.
I will continue to support my foundation and other military support organizations, but I also have to keep up with how I make a living.
We wrapped CSI NY in February 2013 and for the rest of the year I devoted all my time to this support work: raising money to build special homes for our severely wounded, traveling for the USO, supporting military charities around the country, etc. So it will definitely be time to get back to balancing how I make a living with the charitable work I am passionate about. There are already many charitable events and concerts on the schedule for 2014. But once the right project comes along as actor or director, as I did during the nine seasons of CSI NY, I will have to get back to splitting my time between supporting myself and my family and supporting my foundation and the men and women who sacrifice for our country. One thing I know is, none of us could do what we do without those who fight for and defend our freedom and our way of life.
That is just a fact and never more clear than when traveling to places like Afghanistan, Iraq or the border between North and South Korea. Places like North Korea where freedom is not something that is understood. That word does not exist there. Can you imagine living in a country where the military is there to take your freedom away rather than provide it? Where the government is there to oppress and all citizens exist to serve the master? We, as Americans, are lucky and blessed to have grown accustomed to living our lives as we choose rather than how some dictator chooses for us.
And after the horrible attack by 19 terrorists on September 11, 2001, armed with nothing but box cutters, it became clear to me just how fragile our freedom might be.
What if those terrorists had been armed with small nuclear devices or something and flight 93 had reached its target with one of those devices on board, instead of being forced to crash by the brave Americans who fought back against their hijackers? In today's very dangerous and unpredictable world it is certainly not inconceivable that something like that could happen, and so I want to do whatever I can to ensure that our all-volunteer military stays strong. Having Vietnam veterans on my wife's side of the family I remember all too well how turning our back on our veterans after that conflict weakened our nation. We can never do enough for those who serve and sacrifice for our freedom and our security. But we can always do a little bit more, even if it is simply a pat on the back to say thank you. I look forward to continuing my work on their behalf. And while I'm sure I may play the occasional villain, I also look forward to having future opportunities to tell stories in film and television about people who place service above self and who inspire us by their courage, selflessness and example.
BRAD: Finally, I have to ask, what is your favorite BRAD THOR novel and why?
GARY: My favorite BRAD THOR novel is always the one I'm reading at the time. I always learn something new from reading your books and, having just finished HIDDEN ORDER, I recommend it not only for it's suspense, but also for all one can learn about the Federal Reserve and its history.