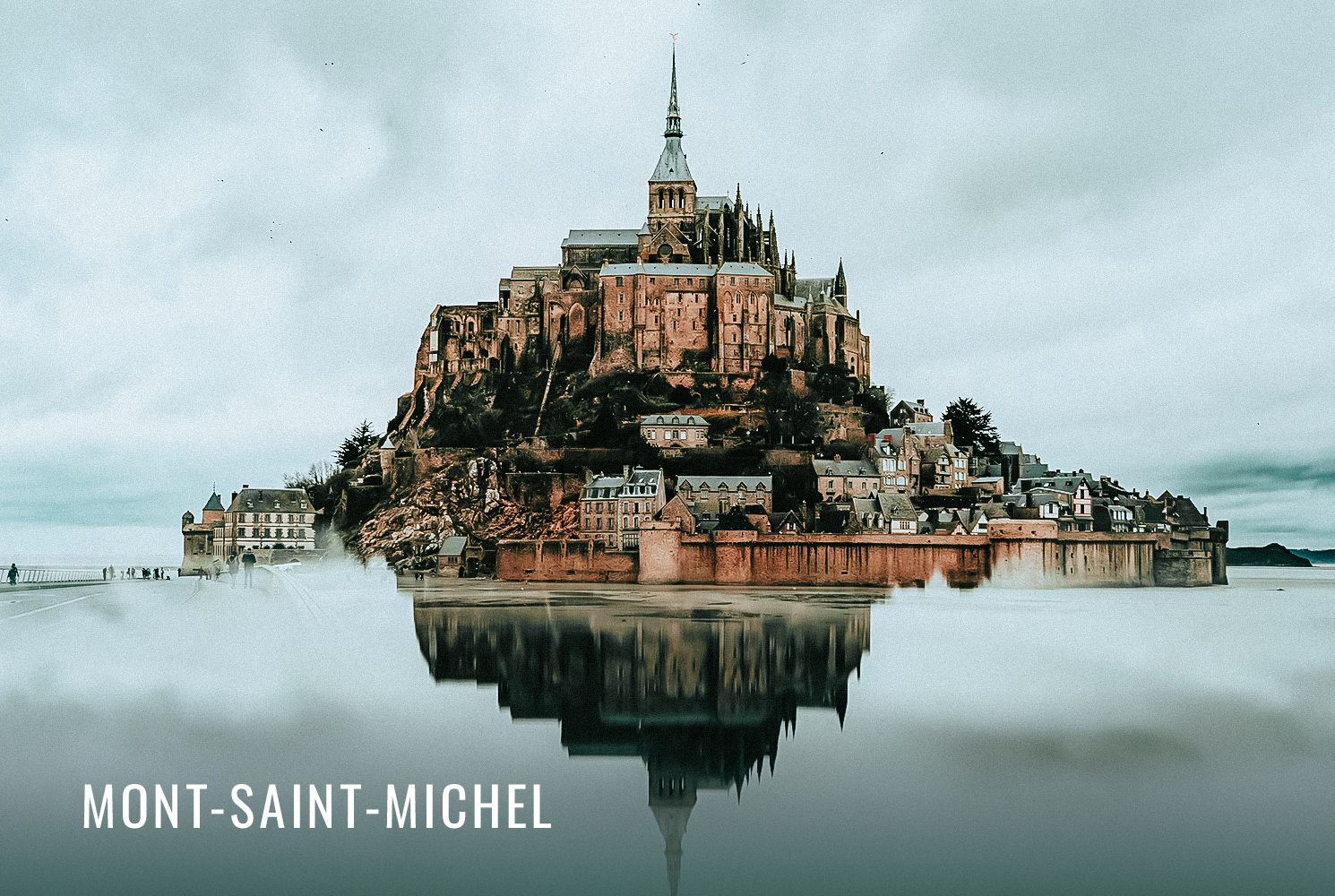 SPOILER ALERT:  Warning that the article below includes spoilers from NEAR DARK.
Mont-Saint-Michel, featured on the cover of NEAR DARK is a UNESCO World Heritage Site and has been referred to as the "Eighth Wonder of the World."  It is a fortified village, capped by a stunning, Romanesque abbey, built upon a tidal island in the Normandy region of northern France.  For years, Brad has wanted to include this special location in one of his novels and is thrilled to have finally done so in NEAR DARK.
As the novel draws toward its dramatic climax, Scot Harvath can be found at the following sights:
Scot, Sølvi, and their guide, Dominque end their tour of the island at La Mère Poulard, a hotel and restaurant opened by Annette and Victor Poulard in 1888.  The restaurant became legendary for its delicious cuisine and its illustrious clientele, whose photos still cover its walls.  Located on La Grande Rue, the village's main street, the restaurant's famous omelet  has been made in the same fashion – with eggs whipped in large copper bowls and cooked over a wood fire – since Annette Poulard's days in the kitchen.
Later, Scot and Sølvi meet Dominique for a drink in the stained-glass bar of the brasserie at Auberge Saint-Pierre, an inn dating back to the 15th century.  Once a lodge for fishermen, the fairy-tale auberge is surrounded by shops along La Grande Rue and a short walk from the Abbey.
The Abbey of Mont-Saint-Michel, where Scot and Sølvi attend vespers, makes a stunning starting point for the climactic chase in NEAR DARK. The Benedictine abbey topped with a statue of the archangel St. Michel is composed of two main areas: the abbatial church at the summit of the rock and "La Merveille" (The Marvel) on the side of the rock.  Built between the 11th and 13th centuries, amidst the challenges of transporting supplies to the tidal island, the abbey became known as "The Pyramid of the Seas." It stands 155 meters above the sea and has welcomed pilgrims since the Middle Ages.
Once Harvath's chase for his assassin is on, Nicholas uses several landmarks to help him locate Aubertin.  Nicholas guides Harvath past Logis Sainte-Catherine and Fontaine Saint-Aubert, a structure dating back to the 8th century, where fresh water sprung from a stone and supplied water for local monks for several hundred years.
Finally, Harvath comes face to face with Aubertin at Chapelle Saint-Aubert.  This tiny stone chapel was built in the early 8th century on a protruding rock that was considered sacred. Legend has it that a child pushed the rock from the top of the mount. The chapel, which can be reached by a set of stone steps, remains a refuge on the island, with its gorgeous altar and views from its arched windows.
---
Other Killer Destinations from Brad's Books